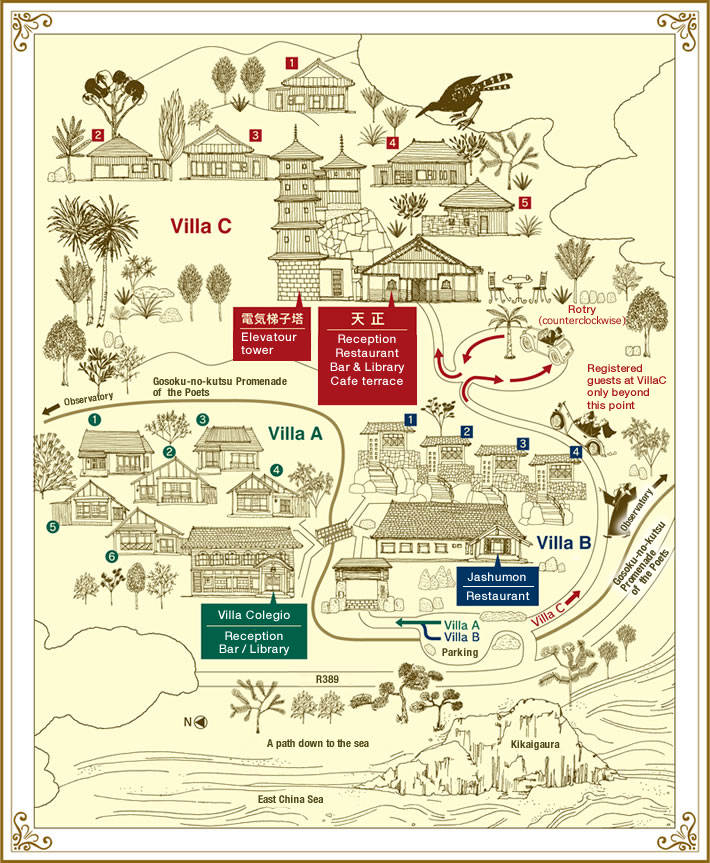 VillaA・VillaB

Zone Shared Facilities
---
VillaC

Zone Exclusive Facilities
---
---
VillaA・VillaB Zone Shared Facilities
Restaurant
Dinner / 18:00〜22:00 B

reakfast

/ 8:00〜11:00
Kitaoji Rosanjin, a well-known and versatile Japanese artist and chef, pursued the idea of tanmi, a style of cooking where the subtle natural tastes of the ingredients are brought out without using excessive salt or spices. The guests can visit the restaurant whatever time.
Reception
Guests staying in Villas A/B check in at the"Villa Colegio", whose architecture combines a traditional Amakusa tiled roof with Western elements such as stained glass windows. Inside, heavy beams support the high ceiling, creating a space that allows warm evening sunlight inside. Also containing a library and a bar, Villa Colegio forms the center of the Villa A/B complex. Checking in and Checking will be used only for Villa A/B guests.
Library
Within the colegio, the guests can read books and magazines, rent CDs. the guests can take them to their own villa to have a relaxing time.
VillaC Zone Exclusive Facilities
Restaurant
Dinner / 18:00〜22:00  Breakfast / 8:00〜12:00
The meals the guests can enjoy is in the Tensho restaurant. Each individual rooms can see the magnificent East China Sea. The local chicken "Amakusa Daio" used hot pot "Amakusa Daio Stone grilled Steamed hot pot" is the Gosoku-no-Kutsu's speciality. Only Villa C guests can choose whenever they want to have Western style breakfast or a Japanese traditional style breakfast. The guests can visit the restaurant whatever time.
Reception
With decorative onigawara tiles on the ridges of its roof, this building resembles a temple on the outside. On the inside, a church-like corridor will lead you to the Café on a terrace overlooking the sea. Just inside is a space that contains the elegant Bar and the Library. Tensho is the main building of Villa C. Checking in and Checking will be used only for Villa C guests.
Bar and Library
This bar express the" Medieval Amakusa = A cradle of Christianity". The guests can freely read, watch and listen to CDs they wish in their own villa. We also have a selection of drinks.
Cafe terrace
Open /
15:00〜23:00(Lo 22:30)、8:00-12:00
Within the Cafe terrace, only guests of Villa C can observe the grand East China Sea . The guests can watch the sun setting while drinking champagne, enjoy your breakfast with the clear blue sky and just looking at the sea while doing nothing. While the guests are staying at our ryokan, please freely enjoy this terrace space.
Aroma Teatment
Aroma treatment which uses pure aromatic oils. If you wish, an aroma therapist will visit you in your Villa. The gentle aroma and subtle touch of the therapist is sure to send you into a relaxed, dreamy state. Aroma therapy stimulates the flow of blood and lymph, helping your body cleanse itself, making your skin look more beautiful. It is also effective for dry skin, poor circulation and sleeplessness.
Note: ※ Prices / ◎Rose (full body, 60min) 10,000yen, ◎Lavender (full body, 60min) 8,000yen ※ Time / 15:00-22:00 (is the latest start time). Please reserve 3 days in advance. ※ The Aroma therapist will visit you in your room.
Room service
Last Order

/ Drink 22:30 Food 21:30
We have a great selection of foods and beverages available for room service. Delight in a glass of Champagne while reading a book, or in your bath. Wake up to the smell of fresh coffee. Enjoy a movie with a wine and cheese spread. You will find the Room Service menu in your room. Please feel free to call and order.
Amenity, Other
In each room, you will find bathrobes, bath towels, shampoo, conditioner, body soap, toothbrushes, hairbrushes, a hair dryer, a shaver, pajamas. Should you need one, an iron is also available on request. If you are traveling with infants we can also provide a baby bed. In addition, there is a TV, DVD player and CD player in every Villa.